My Blog
Posts for: May, 2013
By Quality Dental of Danbury
May 30, 2013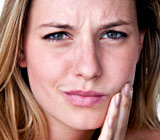 You have probably heard a lot of people talk about TMJ disorders, but do you know what it all means? How do you know if you are suffering from a TMJ disorder?
Below are answers to some common questions about TMJ disorders.
What is a TMJ disorder?
First, we should explain that TMJ actually refers to the Temporomandibular Joint, which is the formal name for your jaw joint(s). TMD stands for Temporomandibular Disorders, which is the correct name for the muscle and/or joint symptoms that commonly arise when there is TMJ pain and dysfunction. You may have heard people refer to the actual disorder as TMJ, but this name is incorrect.
When I experience TMJ pain, what exactly is happening?
Let's first understand all of the parts that play a role in your pain. The temporomandibular joints connect your mandible (lower jaw) to your skull on both the left and right sides, which makes the lower jaw the only bone in the body with completely symmetrical joints at both ends. There is a ball-and-socket relationship between your jaw and your skull on both sides, but the unique part is the presence of a cushioning disk between the two surfaces in each joint. Each TMJ has a disk between the ball (condyle) and socket (fossa), and this sometimes ends up being an especially important area when trouble arises.
So, how do I know if I have TMD?
You can never be absolutely sure, but here are some symptoms you should be sure to share with us during your examination:
Clicking. You may experience a clicking sound in the jaw, usually due to a shift in the position of the disk inside the joint. However, if you do not have pain or limited jaw function, this symptom may be insignificant.
Muscle Pain. The next symptom is jaw muscle pain, usually in the cheeks or temples. If the muscle is sore or stiff in the morning, this pain is usually related to clenching or grinding in your sleep. However, there are more complex muscle pains that can spread to your head and neck.
TMJ Pain. This third symptom refers to pain actually inside one or both of your jaw joints, technically described as arthritis of the TMJ.
If diagnosed, what can I expect from treatment?
We will first need to assess the damage to your TMJ, and from there we will recommend a course of treatment to relieve your pain. Treatment may range from hot or cold compresses and anti-inflammatory medications to physical therapy or a bite guard. We may also advise you to do jaw exercises at home. In general, we will do our best to treat your issue without orthodontic treatment or surgery.
If you would like more information about TMD, please contact us or schedule an appointment for a consultation. You can also learn more by reading the Dear Doctor magazine article "Seeking Relief from TMD."
By Quality Dental of Danbury
May 15, 2013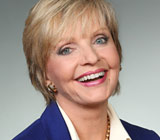 She's an international star who's recognized everywhere she goes. As Carol Brady, she was an ambassador for the "blended family" before most of us even knew what to call her bunch. And her TV Land Pop Culture Icon Award is on permanent display in the National Museum of American History. So what item that fits inside a purse can't Florence Henderson do without?
"I will never leave home without dental floss!" she recently told an interviewer with Dear Doctor magazine. "Because I have such a wide smile, I have found spinach or black pepper between my teeth after smiling very broadly and confidently."
Henderson clearly understands the importance of good oral hygiene — and she's still got her own teeth to back it up! In fact, flossing is the best method for removing plaque from between the teeth, especially in the areas where a brush won't reach. Yet, while most people brush their teeth regularly, far fewer take the time to floss. Is there any way to make flossing easier? Here are a couple of tips:
Many people have a tendency to tighten their cheeks when they're holding the floss, which makes it more difficult to get their fingers into their mouths and working effectively. If you can relax your facial muscles while you're flossing, you'll have an easier time.
To help manipulate the floss more comfortably, try the "ring of floss" method: Securely tie the floss in a circle big enough to easily accommodate the fingers of one hand. To clean the upper teeth, place fingers inside the loop, and let the thumb and index finger guide the floss around each tooth. For the lower teeth, use two index fingers. Keep moving the floss in your hand so you always have a clean edge... and remember, the goal is to get the tooth clean, but it shouldn't hurt — so don't use too much pressure or go too fast.
So take a tip from Mrs. Brady: Don't forget the floss! If you would like more information about flossing and other oral hygiene techniques, please contact us for a consultation. You can learn more in the Dear Doctor magazine article "Flossing: A Different Approach."