My Blog
Posts for tag: tooth wear
By Quality Dental of Danbury
October 09, 2015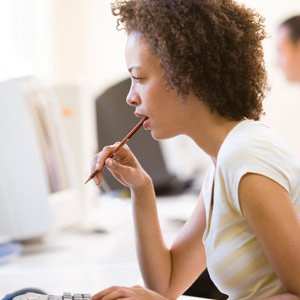 While tooth decay and periodontal (gum) disease destroy more teeth than any other causes, both of these diseases are largely preventable with proper oral hygiene and dental treatment. It's more than possible, then, to enjoy a lifetime of healthy, disease-free teeth.
But even with healthy teeth, the effects of aging will cause tooth wear over time. And although we can't prevent the aging process from occurring altogether, there are steps we can take not to accelerate the process.
Most tissues, including bone and teeth, have a growth cycle in which older cells are broken down (known as catabolism), removed and replaced by newer cells (anabolism). As we develop during childhood, the growth phase exceeds breakdown; when we reach adulthood, the two phases come into equilibrium. But as we age, breakdown will gradually overtake growth. This aging effect results in, among other outcomes, tooth wear.
"Normal" wear appears to be greatest — and most visible — along the biting surfaces of the teeth. The forces generated when we bite or chew causes enamel to erode over time. Unfortunately, you can accelerate this process through bad oral habits: clenching or grinding teeth, often times at night while you sleep, as well as habitually chewing on hard objects like nails or pencils.
Normal forces generated when we bite or chew are actually beneficial for dental health — they help stimulate bone growth. But when they exceed their normal range as when we clench or grind our teeth, they can increase tooth wear and cause other problems such as diminished function or changes in appearance, such as a shortened facial height.
To slow the rate of wear, it's important to modify any behaviors that may be contributing to it. In many cases an occlusal night guard worn while you sleep helps prevent teeth clenching. You may also need assistance with stress management, a major trigger for these kinds of habits, through biofeedback therapy or counseling.
If you've already encountered excessive wear, bonding techniques using colored composite resin, veneers or crowns that attach directly to the teeth can restore lost function and rejuvenate the appearance and color of your teeth. We can perform a "smile analysis" to determine if one of these techniques is right for you to help you regain a more youthful and attractive smile.
If you would like more information on aging and tooth wear, please contact us or schedule an appointment for a consultation. You can also learn more about this topic by reading the Dear Doctor magazine article "How and Why Teeth Wear."
By Quality Dental of Danbury
December 19, 2012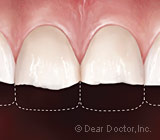 You may have noticed, as you get older, that the enamel of your teeth is looking worn in certain areas. Sometimes tooth wear takes the form of a minor chipping or fracturing at the incisal (cutting) edges of the teeth, or a loss of tooth material from the area near the gum line. In more severe cases, worn teeth look quite a bit smaller than they used to. Why does this happen?
Some wear with age is natural. But too much wear can interfere with your bite, expose more sensitive inner parts of the tooth to decay, and give you a more aged appearance.
There are things you can control that affect wear:
Your habits: Clenching or grinding habits, also called "bruxism," is a major cause of tooth wear. The motion of teeth sliding over each other with forces that are beyond what's normal for biting or chewing causes a mechanical removal of tooth enamel. This can happen during sleep or periods of high stress. In either case there are therapies available, such as a thin, professionally made mouthguard that prevents your teeth from coming into contact with each other. Holding foreign objects, such as nails and bobby pins, between your teeth can also cause wear.
Your diet: Tooth enamel can be eroded (dissolved away) by acidic beverages, such as sodas, sports drinks and juices. Frequent snacking on sugary foods encourages the growth of oral bacteria that produce acid as a byproduct — also leaving your teeth vulnerable to tooth decay. Your saliva can buffer the effects of the acid in your mouth in about half an hour; if you consume these types of foods and beverages continually, there won't be enough time for this to work.
We can restore the appearance and function of worn teeth in a variety of ways. Porcelain crowns and veneers, for example, can re-establish the normal thickness and length of teeth while improving their color and giving you a more youthful appearance.
If you have any questions about tooth wear, please contact us today to schedule an appointment for a consultation. You can learn more about tooth wear by reading the Dear Doctor magazine article "How And Why Teeth Wear."